Welcome to Artifact Motherhood. This is a collaboration of artists from around the world who have come together to share our stories of the joys and struggles in our journeys. Through our writings and photographs, we want to create memories that are more than photographs with dates written on the back. These are the artifacts we are leaving behind for our children and for generations to come.
The intention and idea for this months post as a group is creating one picture that represents your current journey/season of motherhood.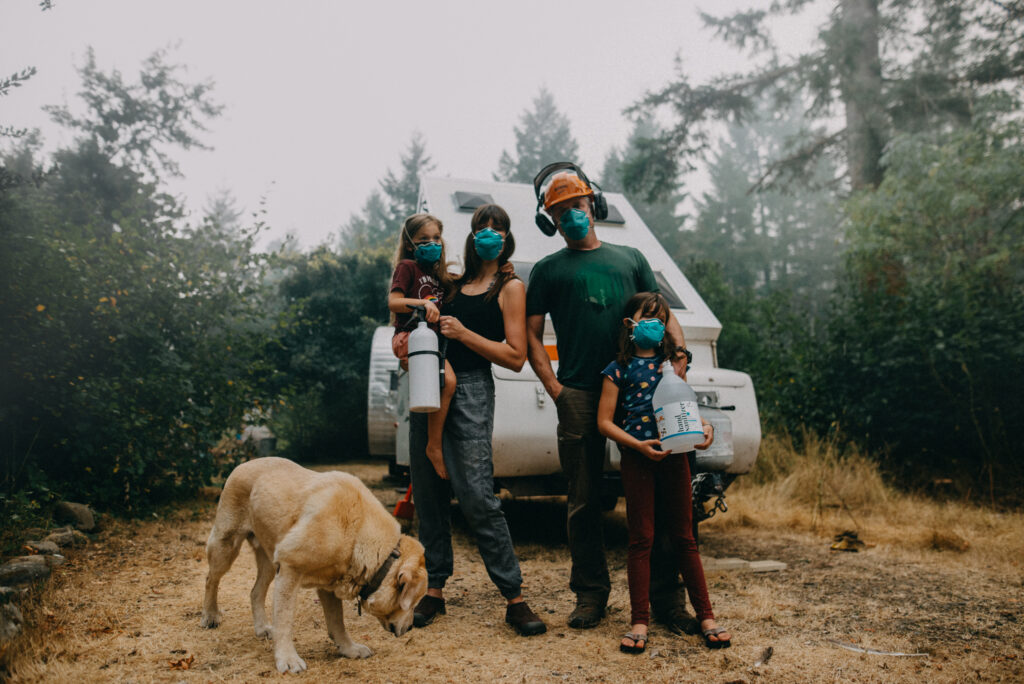 In the wee hours of September 8'th, 2020 I pulled the both of you out of your slumbers and rushed you out of bed to the truck, our camper in tow. A fire had moved 14 miles in just a few hours, and was heading for our home… at 2 am. We had time to grab you both, all of our animals (all 8 animals including 2 goats!), and a few photos albums and computers. I'll never forget your confusion. Your tears as we arrived at an evacuation center because you had to pee. I knew that it was about more than having to pee. It was your world turned upside down.
We had choices to make, attempting to remember the global pandemic yet be realistic about our options. We drove out of town to a friends the next morning, and the sky was burning. I needed headlights despite it being 9 am. I honestly had a feeling that it was the end of the world. I will never forget that certainty. But we held it together, for the two of you, in awe at the sky instead of crying. Eating Cliff Bars like it was a real breakfast, frightened cats on our laps.
The following weeks were spent at 2 very close friends homes. Goats tied up in a back yard, and our friends didn't even remotely complain. And words cannot express my gratitude at these friends. They made a nightmare feel okay. They were the embrace we needed. A sense of normalcy in something that is entirely not a world I imagined my kids experiencing. This is our new normal here in the West, I've come to understand. And I'm so sorry for that, my sweets. I will try my hardest to prepare our home better, and vote like our lives depend on it. Because they do.
Two weeks later, we've returned. We dodged a bullet – the fire stopped a mere 2 miles from our home. And I'm trying my best to make our life & home feel normal, continue a routine when this entire year has not been a routine. A world where N95's (both for Covid + smoke) and hand sanitizer are essentials. But know the routine is – we love you. That is steadfast, and always will be. And that, my girls, is all that matters. You're safe with us.
---
Please go to Abigail Fahey, the next artist in our Artifact Motherhood blog circle and continue through all the artists until you get back to me! To learn more about Artifact Motherhood, click here.